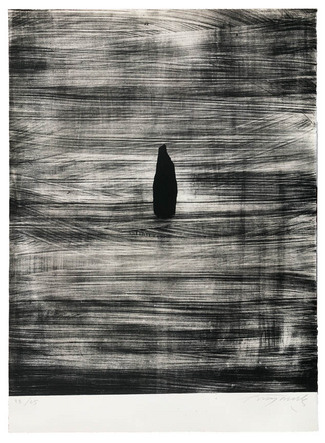 Click on the image for a more detailed view.
Hugo Fontela
Agua II
, 2014
Litografía a una tinta
Image format: 91 x 72 cm
Paper: White Somerset 100 x 72 cm
Edition of 25 numbered and signed works
Order number: 40886
Normal price:
1.100,00 €
Special price for memberships:
Quote A:
1.045,00 €

( save 5% )

Quote B:
990,00 €

( save 10% )

Quote C:
880,00 €

( save 20% )

All prices include taxes
About this work:
Las sutiles piezas Agua I y Agua II tienen una tirada limitada de 25 y 35 ejemplares respectivamente, con la particularidad de que cada uno de estos ejemplares ha sido tratado individualmente a mano por el artista. Los impactantes motivos enlazan con la temática y la atmósfera de sus celebradas escenas portuarias de Nueva York, protagonizadas por envejecidos pilones de amarre y otros despojos industriales, sometidos a la herrumbre del tiempo, la polución y la acción de las aguas degradadas. Las erguidas siluetas negras recuerdan a náufragos que, como islotes amenazados por las mareas, se resisten contra su irremediable destino final. Las potentes imágenes, de depurada esencialidad poética y concentrada belleza, tienen tal fuerza expresiva que sugieren al observador un significado simbólico sobre el paso del tiempo y la caducidad de toda creación humana.
La circunstancia de que estas estampas hayan nacido poco antes del reconocimiento de Hugo Fontela con el Premio Príncipe de Girona de las Artes y las Letras 2014, sitúa estas ediciones en un momento especialmente significativo de la carrera artística del pintor.
Other Artworks by Fontela: