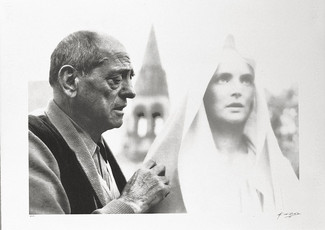 Click on the image for a more detailed view.
Antonio Gálvez
Buñuel y su virgen
, 2000
Screenprint in 4 colors
Image format: 43 x 58 cm
Paper: Fabriano 50 x 70 cm
Edition of 100 numbered and signed works
Order number: 6304
Normal price:
180,00 €
Special price for memberships:
Quote A:
171,00 €

( save 5% )

Quote B:
162,00 €

( save 10% )

Quote C:
144,00 €

( save 20% )

All prices include taxes
About this work:
Gálvez payd homage to the genius of Luis Buñuel in the year 2000, the year in which the centenary of Buñuel's birth was celebrated throughout the whole world. Buñuel and Gálvez met at the Hotel l'Aiglon in Paris during their shared exile, and became close friends. These images come from the work that Gálvez did during the filming of La Vía Láctea in 1969. In this film Buñuel, the eternal iconoclast, uses irony to attack the rites and dogmas of the catholic tradition.

In the screen print Buñuel y su virgen (Buñuel and His Virgin) the solid, earthy figure of the director from Aragon contrasts with the evanescent and immaculate image of the Virgin Maria, interpreted by the actress Edith Scope.





Other Artworks by Gálvez: