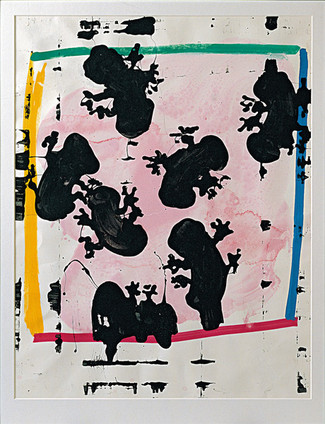 Click on the image for a more detailed view.
Frederic Amat
Cachorros
, 1998
Screenprint in 10 colors
Image format: 65 x 50 cm
Paper: Velin Arches 65 x 50 cm
Edition of 75 numbered and signed works
Order number: 3889
Normal price:
370,00 €
Special price for memberships:
Quote A:
351,50 €

( save 5% )

Quote B:
333,00 €

( save 10% )

Quote C:
296,00 €

( save 20% )

All prices include taxes
About this work:
Cachorros (Puppies) is a work of disquieting ambiguity. The free-flowing shapes evoke embryos floating on a culture medium or stuck onto a glass pannel, gazing towrds the viewer. Could this be a test-tube? The luminous colour on the background, innocent and sensual, may be hiding a latent tragedy. Puppies: signs of life or of death?