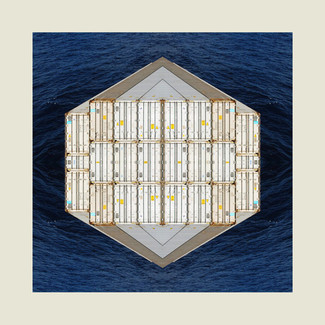 Click on the image for a more detailed view.
Joost Tholens
Cargo afloat
, 2007
Photograph
Format: 50 x 50
Edition of 8 numbered and signed works
Order number: 40176
Normal price:
470,00 €
Special price for memberships:
Quote A:
446,50 €

( save 5% )

Quote B:
423,00 €

( save 10% )

Quote C:
376,00 €

( save 20% )

All prices include taxes
About this work:
En estas fotografías, en las que Tholens toma como material visual el universo de los contenedores de puertos y embarcaderos, el mar de un azul intenso e inconfundible sirve de base a las composiciones. En Seascape II, de 2007, el océano, limitado dentro de los márgenes estrechos de un cuadrado, contiene a su vez las simétricas y fantásticas evoluciones de un conjunto de minimizados contenedores. Es una de las obras donde la realidad parece estar observada a través de un calidoscopio y donde la imagen central adquiere una especie de curiosa tridimensionalidad. Otro tanto sucede en Cargo at sea y Cargo afloat: los contenedores agrupados en el centro devienen islas o esculturales plataformas flotantes, mientras que en Cargo after the rain, aparecen erguidos, abriéndose a cada lado como una extraña nave o bloque de edificios de presencia potente y majestuosa. En Cargo loading, toda la superficie aparece ocupada por un conglomerado de contenedores convertidos en abstractas cuadrículas, que se suceden y multiplican, vitales, incesantes y bañadas por intermitentes destellos de luz y color.
La cámara digital y el ordenador son las herramientas para realizar sus peculiares "composites". Inversiones, montajes e imágenes reflejo transforman el entorno, creando singulares universos paralelos y ofreciendo nuevos enfoques y combinaciones de la realidad.