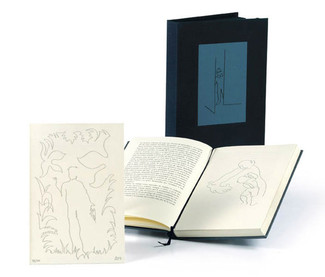 Click on the image for a more detailed view.
Manuel Vicent
Contra Paraíso
Edition of 300 numbered and signed works
Order number: 2170
Normal price:
150,00 €
Special price for memberships:
Quote A:
142,50 €

( save 5% )

Quote B:
135,00 €

( save 10% )

Quote C:
120,00 €

( save 20% )

All prices include taxes
About this work:
The writer Manuel Vicent (Vilavella, Castellón, 1936) and the sculptor Andreu Alfaro (Valencia, 1929 - 2012) share an indisputable prominence in Spanish culture. But what makes this book Contra Paraíso (Against Paradise) truly special is the presence of a single sensibility, of a shared experience of life, in the town of Vilavella during the war and in the immediate post-war period. The exquisitely designed Contra Paraíso is published by Círculo de Lectores and Galaxia Gutenberg, and is offered now to members of Círculo del Arte.

More than just illustrating or complementing the text, Andreu Alfaro's drawings seems to form part of the narrative, fusing themselves with it. In the text, Manuel Vicent talks, in an autobiographical story, of the Pauline revelation of the world in the eyes of a child, and later an adolescent, during the difficult experiences of the Forties. In his drawings Alfaro shows his intelligence and refinement when it comes to recreating, with brief but essential brushstrokes, the poetry and beauty of his childhood memories.

Both in the text as well as in the illustrations, the ingenuity, fantasy, discipline, fears and hopes of this age are described in nostalgic, delicate, rich language, either in words, or with the subtle lines of the illustrations against their white background. Along with the book, we are offering a lithograph by Andreu Alfaro (Spain's representative, along with Eduardo Arroyo, at the Venice Biennale) made specially for members of Círculo del Arte, in which the artist has reflected, in free, snaking lines, all the significance and mystery of the adolescent's life.

The book: with 64 illustrations by Andreu Alfaro. Binding in Iris cloth with stamping on spine. 16,5 x 24,5 cm. 240 pages. Numbered edition of 300, signed by both authors.

The case: lined wit Iris cloth with a monochrome label.

The print: El paraíso (Paradise), by Andreu Alfaro. Monochrome lithograph. 15,5 x 23 cm. Paper: Arches 15,5 x 23 cm. Numbered and signed edition of 300.