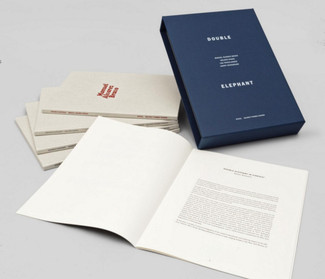 Click on the image for a more detailed view.
Thomas Zander (ed.)
Double Elephant
, 2015
Format: 29.5 x 35.5 cm
Order number: S7435
Price:
98,00 €
All prices include taxes
About this work:
From 1973 to 1974, Lee Friedlander and Burt Wolf edited four iconic portfolios at the Double Elephant Press in New York, featuring photographs by some of the most influential photographers of the twentieth century: Manuel Alvarez Bravo, Walker Evans, Garry Winogrand, and Lee Friedlanderhimself. Each of the four limited edition portfolios contained fifteen photographs by each artist, representing their distinct visions that can be described in the words of Walker Evans as "oddly refreshing, unselfconsciously striking, and unpredictably adventurous."
This publication honors the unique collaborative project that was to become a touchstone in the history of photography.

Edited by Thomas Zander
192 + 32 textbook pages pages
tapa dura en estuche
29.5 x 35.5 cm
5 libros
Textos en inglés