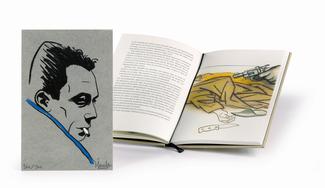 Click on the image for a more detailed view.
Albert Camus
El extranjero
, 2001
Edition of 300 numbered and signed works
Order number: 41418
Normal price:
275,00 €
Special price for memberships:
Quote A:
261,25 €

( save 5% )

Quote B:
247,50 €

( save 10% )

Quote C:
220,00 €

( save 20% )

All prices include taxes
About this work:
Splendid edition of a legendary novel by the Nobel Prize Albert Camus -translated by Jose Ángel Valente- with illustrations in full colour and a signed silkscreen by Eduardo Úrculo.


The book: with 52 illustrations in colour by Eduardo Úrculo. Binding: Brillanta cloth with stampings on front cover and spine. 141 pages.

The case: lined with cloth and stamping on the front cover.

The print: Lithograph in 6 colours by Eduardo Úrculo. 23 x 15 cm. Paper: Superalfa de Guarro. Numbered and signed edition of 300.