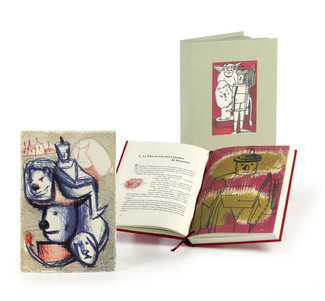 Click on the image for a more detailed view.
L. Frank Baum
El Mago de Oz
, 2000
Edition of 300 numbered and signed works
Order number: 7187
Normal price:
250,00 €
Special price for memberships:
Quote A:
237,50 €

( save 5% )

Quote B:
225,00 €

( save 10% )

Quote C:
200,00 €

( save 20% )

All prices include taxes
About this work:
Written by L. Frank Baum and first published in 1900, The Wizard of Oz is the first great fairytale of North American literature. It is an immortal text which contains surprises and lessons for children and adults, and which has marked the imagination of many generations.

Círculo del Arte celebrates the centenary of this legendary book with a bibliophile's edition illustrated by Javier Pagola, who has managed to create images which enrich the marvellous text. Using line drawings and colour illustrations, we travel through the land of Oz and familiarise ourselves with this strange, bright world inhabited by witches and magic characters.

The lithograph which accompanies El Mago de Oz shows the unique richness of Pagola's personal language. It is a fantastic drawing made with great spontaneity, clearly showing the technical ability that characterises his work. Inspired by the fantasy unleashed by the book, Pagola has created an image full of colour which, at the same time as revealing the interior world of the artist, shows his sympathy with the imagination that the writer poured out in his timeless work.

The book: with 28 full-page illustrations and 162 drawings by Javier Pagola. Epilogue by Ray Bradbury. Binding: Iris cloth with stampings on front cover and spine. 16 x 24 cm. 224 pages. Numbered edition of 300.

The case: lined with Iris cloth with a colour print on the cover.

The print: El País de Oz (The Land of Oz), by Javier Pagola. Lithograph in 3 colours. 23,5 x 16 cm. Paper: Super Alfa. Numbered and signed edition of 300.