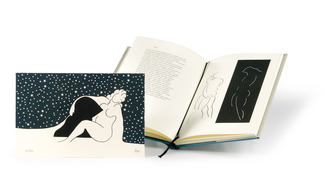 Click on the image for a more detailed view.
Johann Wolfgang von Goethe
Elegías romanas
, 1999
Image format: 27 x 18 cm
Paper: Oria
Edition of 300 numbered and signed works
Order number: 41409
Normal price:
160,00 €
Special price for memberships:
Quote A:
152,00 €

( save 5% )

Quote B:
144,00 €

( save 10% )

Quote C:
128,00 €

( save 20% )

All prices include taxes
About this work:
Johann Wolfgang von Goecycle Roman Elegies, initially entitled Erotica and written following his return to Germany, reflects a new feeling for life, which he discovered during his visit to Italy. He acquired a new, more pagan attitude to life, in terms of sensuality and social conventions, a feeling which coincided with his discovery of classical antiquity and the revelation of a profound identity between art and nature. Two essential themes inspired the poems of this cycle: love and classical antiquity. Both turned Rome into the setting for an idyll between vivacious eroticism and the perfection of the classical, between hedonism and the isolation of sublime love, the enjoyment of life and perfect love.

250 years after his birth, Goethe remains alive in the minds of other artists. An example of this can be found in the work of the sculptor Andreu Alfaro, a great reader of the German writer's work, to whom he has dedicated the sculpture exhibitions Goethe y nuestro tiempo (Goethe and Our Time) (1989) and Walpurgisnacht (1990).



The book: with reproductions of 20 lithographs by Andreu Alfaro. Binding: Iris cloth with stamping in spine. 27 x 18 cm. 92 pages. Numbered edition of 300.

The case : lined with Iris cloth with a colour print on the cover.

The print: Lithograph in 2 colours by Andreu Alfaro. 16,5 x 25 cm. Numbered and signed edition of 300.




Other Artworks by Goethe: