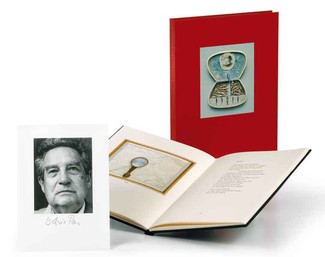 Click on the image for a more detailed view.
Octavio Paz
Figuras y figuraciones
, 1999
Image format: 30 x 24 cm
Paper: Velin Arches
Order number: 5009
Normal price:
390,00 €
Special price for memberships:
Quote A:
370,50 €

( save 5% )

Quote B:
351,00 €

( save 10% )

Quote C:
312,00 €

( save 20% )

All prices include taxes
About this work:
This book has its origins in the admiration that Octavio Paz feels for the work of Marie José, and in his desire to pay homage to it by showing the very real similarities in their creative impulses. Inspired by a series of constructions or box-collages, Octavio Paz wrote ten poems which recreate the Marie José's artistic universe and which have remained unpublished up to now. She, in turn, constructed two pieces inspired by two short poems of his. Thus, each poetic composition has an intimate link with the work which accompanies it. The result is this profound, intense dialogue between love, poetry and art, underpinned by the complicity that has arisen through their long, shared life. Entertainment and discovery, the counterpoint that gives this book life, rewrites the history of a passion that expresses itself through poetry and art.

The book: spines printed on glossy stucco textured paper and glued together by hand. Each poem is printed on Velin Arches paper with roughened edges. The book is sewn and bound by hand in Iris cloth. 30 x 24 cm. 44 pages. Numbered edition of 300, signed by Marie José Paz.

The case: covered and lined in Royal Pyer cloth with colour print on cover and stamping on spine.


Other Artworks by Paz: