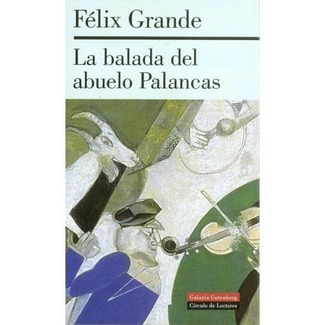 Click on the image for a more detailed view.
Félix Grande
La balada del abuelo Palancas
Artwork by Grande and Círculo de Lectores/Galaxia Gutenberg (Ed.)
Order number: D094269
Price:
19,50 €
P&D price:
15,50 € + 50 points
All prices include taxes
About this work:
Cinco generaciones de Palancas deben su apodo familiar al hecho de que al abuelo no quisieron fiarle un desahogo en el prostíbulo de la calle del Charco... es la primera anécdota que el poeta Félix Grande ofrece en la biografía novelada que dedica a su abuelo, un homenaje al campesino manchego sencillo y sincero.