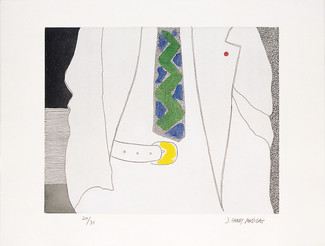 Click on the image for a more detailed view.
Joan Gardy Artigas
La cravate
, 1986
Monochrome hand-coloured engraving in 4 colors
Image format: 37,5 x 47,5 cm
Paper: Arches 50 x 66 cm
Edition of 75 numbered and signed works
Order number: 10108
Normal price:
250,00 €
Special price for memberships:
Quote A:
237,50 €

( save 5% )

Quote B:
225,00 €

( save 10% )

Quote C:
200,00 €

( save 20% )

All prices include taxes
About this work:
As we can see in La cravate (The Tie), Gardy Artigas' prints stand out on account of the expressiveness of their lines, which are surprisingly flexible, and through his conception of space. Depth is not achieved by means of traditional perspective but rather an unusual arrangement of colours, which are carefully combined, and by means of a unique combination of grey tones with blocks of bright colours. In order to give the work a greater degree of individuality, Gardy Artigas decorates each print by hand (the tie, the buckle of the belt, the lapel) and thus endows it with greater strength and vitality.