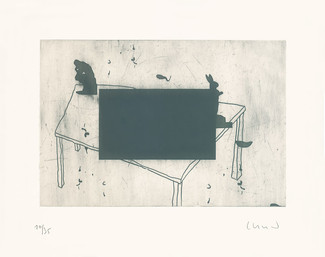 Click on the image for a more detailed view.
Jordi Cano
Llegit III
, 2003
Etching in 1 color
Image format: 33 x 49 cm
Paper: Guarro 71,5 x 62 cm
Edition of 35 numbered and signed works
Order number: 15982
Normal price:
350,00 €
Special price for memberships:
Quote A:
332,50 €

( save 5% )

Quote B:
315,00 €

( save 10% )

Quote C:
280,00 €

( save 20% )

All prices include taxes
About this work:
In Cano's work austerity is a quality that stands out. He uses a chromatic range that is reduced to white, grey, black and blue, although occasionally he turns to red in small amounts. He represents interiors with furniture such as tables and bookcases full of severely linear and geometric books. The title of works such as Legit I and Legit III takes us to a lived experience that the artist wants to convey. The spaces that Jordi Cano evokes in his work are close and accessible. Cano's work has been influenced by the ideas of the philosopher and essayist Gaston Bachelard, for whom the interior of a house can be understood as a receptacle for memories. In the works that we present appear types of dark figures silhouetted against a light background, RodinS Thinker, biomorphic elements, a figure of a classical appearance and Joseph Beuys hare.