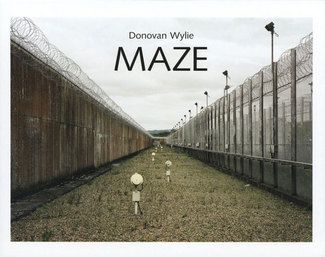 Click on the image for a more detailed view.
Donovan Wylie
Maze
Order number: S9077
Price:
48,00 €
All prices include taxes
About this work:
Between 2002 and 2003 Donovan Wylie spent almost a hundred days photographing inside the Maze prison. Through its history of protests, hunger strikes and escapes, this prison, holding both republican and loyalist prisoners, became synonymous with the Northern Ireland conflict. After the Belfast peace agreement in 1998, inmates were gradually released, but the Maze remained open.
Wylie was then the only photographer granted official and unlimited access to the site, when the demolition of the prison began, symbolizing the end of the conflict in 2007. He systematically recorded its demise. The photographs which document this period are divided into four sections, each depicting a "layer" of the prison: the internal walls, the various modes of fencing, the H-blocks and, finally, the perimeter walls, which reveal the external landscape. Eventually this once-enclosed space is reintegrated with the outside world.
First published in 2004 to critical acclaim, this new edition of Maze comes in three volumes: Maze 2002/03, Maze 2007/08, and The Architecture of Containment.
Other Artworks by Wylie: