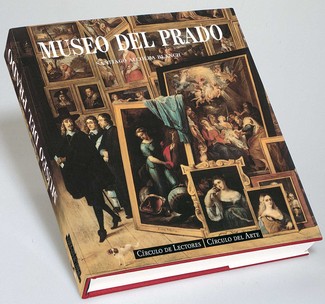 Click on the image for a more detailed view.
Ediciones Museo del Prado
Museo del Prado
Image format: 25 x 30 cm
Order number: 18
Price:
78,00 €
All prices include taxes
About this work:
The Prado Museum belongs to the small group of major institutions where the most important works of art painted in Europe during Medieval times can be admired. Its history is closely linked to the history of Spain.

From the generous patronage of Felipe IV to the huge work carried out during the Civil War to preserve this Spanish heritage, the life of the Prado Museum has been dotted with adventures and anecdotes that illustrate the deep respect of the Spanish people for its cultural heritage. The prestigious art historian Santiago Alcolea Blanch here offers a complete tour through the long, eventful life of this institution.

Thoroughly documented, and with more than 300 illustrations, of which 275 are full-coloured illustrations of the most representative paintings of each school, this book gathers together the history and essence of one of the greatest art museums in the world.



Círculo de Lectores / Círculo del Arte, 1994. Commemorative edition with a special prologue by Francisco Calvo Serraller, Director of the Prado Museum between 1993 and 1994. Cloth with stamping on spine and front. Full-colour laminated jacket. 25 x 30 cm. 464 pages.