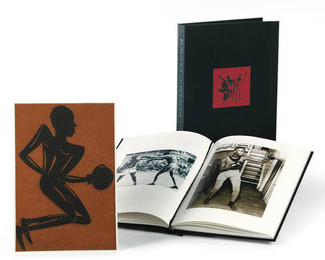 Click on the image for a more detailed view.
Jean Cocteau
Panama Al Brown
, 1995
Image format: 19 x 27,5 cm
Edition of 300 numbered and signed works
Order number: 836
Normal price:
390,00 €
Special price for memberships:
Quote A:
370,50 €

( save 5% )

Quote B:
351,00 €

( save 10% )

Quote C:
312,00 €

( save 20% )

All prices include taxes
About this work:
Eduardo Arroyo, in his guise as a writer, along with producing major essays devoted to artistic subjects, he has also written about boxing, of which he has always been an enthusiastic defender. This interest is precisely what inspired his biography on Panama Al Brown (1982) and the theatrical work Bantam (1986), in which he shows his personal perception of the art of boxing, and of boxing as a poetic, beautiful event.

For many years, Arroyo had had the idea of rescuing the forgotten figure of Panama Al Brown, the boxer who held the world bantam weight title continuously from 1927 to 1935. A close friend of the poet Jean Cocteau, he died in poverty in New York in 1951. This is the result of what Arroyo describes as a photographic biography of the champion, accompanied by texts that Cocteau wrote about his great Panamanian friend.


The book: illustrated with photographs and drawings by Eduardo Arroyo. Binding. Moiré de Winter & Co. cloth with stamping on spine. 28 x 19,5 cm. 144 pages. Numbered edition of 300.

The case : lined in Moiré de Winter & Co. cloth, with a colour print.

The print: Panamá I, by Eduardo Arroyo. Etching in 2 colours. 26,2 x 17,5 cm.
Number 305 of the catalogue raisonné of Arroyo's graphic work.