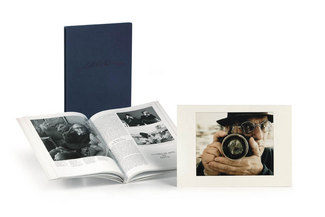 Click on the image for a more detailed view.
Agustín Sánchez Vidal
Retrato de Carlos Saura
, 1994
Paper format: 29,7 x 21
Edition of 300 numbered and signed works
Order number: 5751
Normal price:
180,00 €
Special price for memberships:
Quote A:
171,00 €

( save 5% )

Quote B:
162,00 €

( save 10% )

Quote C:
144,00 €

( save 20% )

All prices include taxes
About this work:
The illustrated biography Portrait of Carlos Saura has become an indispensable reference book at international level for anyone who want to learn about the life and work of the great Spanish film-maker. It includes a magnificent literary portrait and a series of different interviews, both by Agustín Sánchez Vidal - professor of Cinematic History and Other Audiovisual Media at the University of Zaragoza -, as well as a full discussion of his films and a series of portraits of Saura written by figures like Luis Buñuel, Polanski and others.

This biographical portrait is enriched by a wide selection of photographs from his personal and professional life, which show Saura at different moments in his life, in scenes during the shooting of his films, with friends, family and famous celebrities such as Robert Altman, Mia Fathe Chaplins and many others. A lot of these images were taken by Saura himself, including his amazing self-portraits in mirrors. One extraordinary example is the photograph that accompanies the 300 copies of this book that we have reserved especially for Círculo del Arte. Both the book and the photographs, both of which have been signed by Saura himself, are protected by a cloth-covered case.

The book: with more than 130 black and white and colour photographs of Carlos Saura's life and oeuvre, photographic portraits and self-portraits, reproductions of scenery drawings and photographs. Binding: Paperback with flaps. 29,7 x 21 cm. 144 pages. Numbered edition of 300, signed by Carlos Saura.

The case: Lined with Iris cloth, with stamping on cover.

The photograph: Photographic self-portrait of Carlos Saura, numbered and signed by the artist. 19 x 23 cm. Edition of 300.