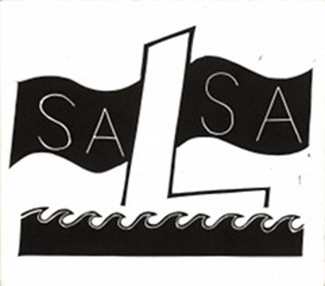 Click on the image for a more detailed view.
Jirka Pfahl
Salsa
, 2010
Format: 17 x 15 cm
Artwork by Pfahl and Lubok Verlag
Order number: 41078
Price:
18,00 €
All prices include taxes
About this work:
El libro de linograbados originales en blanco y negro Salsa de Jirka Pfahl se ha publicado con motivo de la exposición que lleva el mismo nombre en el Kuenstlervereinigung Dachau del 10 de Junio al 27 del mismo mes en el año 2010. El libro trata sobre la usurpación política de los códigos del lenguaje. Inicialmente el título del libro de artista Salsa parece estar relacionado únicamente con alguna salsa o con el baile, pero si uno se fija en realidad hace referencia a la organización paramilitar nazi "Sturmabteilung" (SA). Un libro político.
Libro de artista con 48 linograbados originales de Jirka Pfahl en blanco y negro
Encuadernación en tapa blanda, 48 páginas, 17x15 cm, edición de 300 ejemplares numerados
Other Artworks by Pfahl: