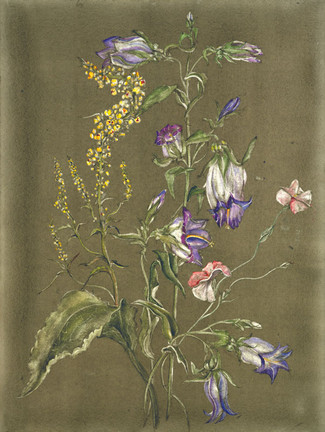 Click on the image for a more detailed view.
Doris Downes
Summer Garden
, 2003
Lithograph in 11 colors
Image format: 76 x 57 cm
Paper: Arches 76 x 57 cm
Edition of 100 numbered and signed works
Order number: 15610
Normal price:
355,00 €
Special price for memberships:
Quote A:
337,25 €

( save 5% )

Quote B:
319,50 €

( save 10% )

Quote C:
284,00 €

( save 20% )

All prices include taxes
About this work:
Summer Garden, Diplomat Lily and Green Goddess Calla Lily are three lithographs, partly coloured by hand, that Doris Downes has carried out in the well-known workshop of Vicenç Aznar in Barcelona, exclusively for the members of Círculo del Arte. The beautiful and delicate compositions take us to a world of sensuality and emotion. Even though the compositions draw on the 18th century tradition of botanical representations, these three pieces breathe an evident modernity characterised by an excited and energetic, though always controlled, brushstroke. According to the renowned art critic Robert Hughes for Downes, linear control is control of the essence. Despite its attention to detail and meticulousness, there is a markedly expressive intention in these lithographs that carries them away from the objective works of the past, destined for the study of scientists. Downes's flowers are, undoubtedly, the object of pure pleasure for art and nature lovers.


Other Artworks by Downes: