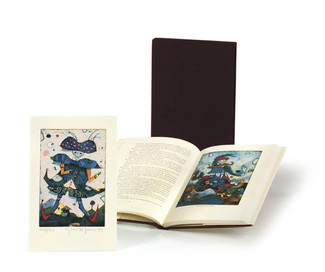 Click on the image for a more detailed view.
William Shakespeare
Un sueño de la noche de San Juan
, 1994
Image format: 16,5 x 11 cm
Paper: Oria
Edition of 300 numbered and signed works
Artwork by Shakespeare and Hofmann
Order number: 588
Normal price:
150,00 €
Special price for memberships:
Quote A:
142,50 €

( save 5% )

Quote B:
135,00 €

( save 10% )

Quote C:
120,00 €

( save 20% )

All prices include taxes
About this work:
In his work, Gerhard Hofmann displays a fascination for the world of children's stories, which he interprets in a way that is very personal, imaginative and full of details. Magical characters and objects feature in images that are ambiguous but very descriptive, like the images of dreams. The careful combination of colours and the pleasure he takes in the processes of printmaking create an harmonious blend of textures, colours and forms which all combine in these suggestive illustrations of that magical story A Midsummer Night's Dream by William Shakespeare, available now in a book presented by the Círculo del Arte, set on the night when, as the writer warns, &#171anything supernatural can occur&#187.

Puck, the etching that accompanies the book for members of the Círculo del Arte, reflects Gerhard Hofmann's full pictorial personality. Using a chromatic range that is almost reduced to primary colours, Hofmann creates an atmosphere of artistic richness whose shrewd ingenuousness shows the influence of the work of Paul Klee


The book: with 12 illustrations by Gerhard Hofmann. Prologue by Carlos Pujol. Translation by José María Valverde. Binding: Regentleinen cloth. Flyleaves in hand-made Roma-Bütten paper. 16,5 x 24,5 cm. 128 pages. Numbered edition of 300.

The case: lined with Regentleinen cloth.

The print: Puck, by Gerhard Hofmann. Etching in 3 colours, numbered and signed. 16,5 x 11 cm.