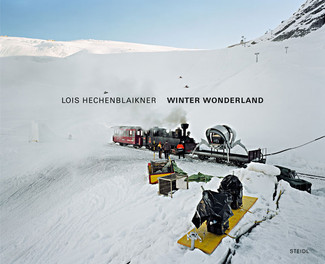 Click on the image for a more detailed view.
Lois Hechenblaikner
Winter Wonderland
, 2012
Order number: S2843
Price:
38,00 €
All prices include taxes
About this work:
"Hechenblaikner's intimate knowledge of the subject, the great perseverance and patience he brings to bear when pursuing how event culture and mass tourism have mutilated the former mountain farmers' country, make him the most expressive documentarian of today's Alpine reality." Tobia Bezzola
"Have fun" reads a sign on a ski run, a photograph of which opens Winter Wonderland. And fun we have exploring these images of Hechenblaikner's native Tyrol including masses of fans at a ski event, fireworks illuminating slopes at night, ski lifts in the off-season navigating rocky outcrops, and rubbish in the snow after a day of revelry. This book is a documentation of this landscape and an ironic look at the perversion of Tyrolean culture that shapes it in the interest of commerce.

Steidl, May 2012
88 pages, 52 colour plates. 29.5 cm x 24 cm.
Clothbound hardcover with dust jacket

Other Artworks by Hechenblaikner: