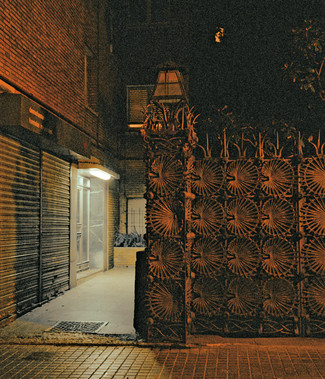 Click on the image for a more detailed view.
Chema Alvargonzález
Alrededor de Gaudí 2
, 2002
Photograph
Image format: 70 x 60 cm
Paper: Kodak Metal 70 x 60 cm
Edition of 15 numbered and signed works
Order number: 11320
Normal price:
1.550,00 €
Special price for memberships:
Quote A:
1.472,50 €

( save 5% )

Quote B:
1.395,00 €

( save 10% )

Quote C:
1.240,00 €

( save 20% )

All prices include taxes
About this work:
In the photographic series Alrededor de Gaudí (Around Gaudi), Alvargonzález surprises us by showing an uncommon view of the famous buildings of the Catalan architect. The spectator is used to seeing Gaudi's buildings in postcards, isolated and stylised, as perfect icons of Barcelona. Chema Alvargonzález makes a more realistic portrait of the buildings, placing them within their immediate urban context: reflected in nearby buildings, surrounded by traffic signals and shop signs, or as works under construction. Thus he obtains a vivid contrast between modernist architecture and everyday elements of the XXI century.



Other Artworks by Alvargonzález: