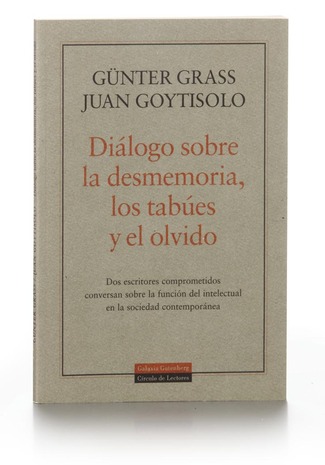 Click on the image for a more detailed view.
Juan Goytisolo
Diálogo sobre la desmemoria, los tabúes y el olvido
, 1997
Artwork by Goytisolo and Grass
Order number: D09286X
Price:
15,00 €
All prices include taxes
About this work:
El 4 de junio de 2017 recibimos con profundo pesar la noticia de la muerte del escritor Juan Goytisolo (Barcelona, 1931 –Marrakech, 2017), acaecida en su Marrakech de adopción, donde residía desde 1997, año en que se trasladó desde París, donde había residido desde 1956. La desaparición del gran escritor e intelectual comprometido supone para Círculo del Arte y sus numerosos lectores en el mundo una pérdida dolorosa. Su persona y su obra han tenido una viva presencia en nuestros actos, exposiciones y programas y han supuesto una aportación fundamental al patrimonio cultural del club.
En esta colaboración de varias décadas los encuentros personales con el escritor en escenarios geográficos cambiantes –París, Marrakech, Barcelona, Madrid, e incluso Behlendorf, hogar de Günter Grass en la región báltica alemana- impulsaron a menudo estimulantes proyectos de considerable trascendencia.
Así por ejemplo nació en el encuentro de Behlendorf con Grass y Goytisolo el acuerdo de organizar en el Centro Cultural de Círculo de Lectores en Madrid, en noviembre de 1997, un diálogo de ambos sobre la función del intelectual en la sociedad contemporánea. Esta conversación resultó un acontecimiento público y mediático y se convirtió en una referencia en el debate sobre el compromiso de los intelectuales.
Other Artworks by Goytisolo: