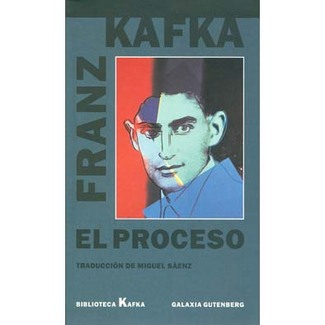 Click on the image for a more detailed view.
Franz Kafka
El proceso
Artwork by Kafka and Círculo de Lectores/Galaxia Gutenberg (Ed.)
Order number: D094145
Price:
15,90 €
P&D price:
12,50 € + 50 points
All prices include taxes
About this work:
Un tribunal anónimo y misterioso incoa un proceso contra un joven apoderado a quien no se revela el delito que se le imputa y el cual muere ejecutado por un par de agentes, sin haber logrado llegar hasta el tribunal ni desentrañar el misterio.
Other Artworks by Kafka: