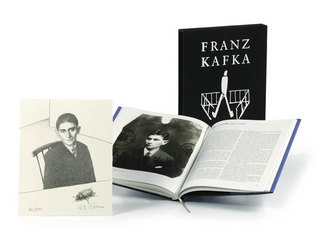 Click on the image for a more detailed view.
Klaus Wagenbach
Franz Kafka. Imágenes de su vida
, 1998
Image format: 24 x 19 cm
Edition of 300 numbered and signed works
Artwork by Wagenbach and Glasauer
Order number: 4986
Normal price:
130,00 €
Special price for memberships:
Quote A:
123,50 €

( save 5% )

Quote B:
117,00 €

( save 10% )

Quote C:
104,00 €

( save 20% )

All prices include taxes
About this work:
The German writer Klaus Wagenbach has devoted his life to studying the life and work of the great writer from Prague. The extraordinary biography Franz Kafka. Images from His Life is his exhaustive work, full of select images and information from Kafka's world, containing an extensive gallery of photographs of the writer and his family, as well as drawings, manuscripts and documents, plus other material concerning Prague during Kafka's time. Círculo del Arte has reserved 300 copies of this work for its members, complemented by an interesting lithograph by Willi Glasauer, and an attractive case with printed, cloth covers.

The book: illustrated with almost 600 black and white photographs, reproductions of documents, drawings by Kafka, maps and postcards from Kafka's lifetime. Binding: Geltex with stamping on spine. 25 x 21,5 cm. 248 pages.

The case: lined with Iris cloth with stamping on cover.

The print: Retrato de Kafka (Portrait of Kafka), by Willi Glasauer. Monochrome lithograph. 24 x 19 cm. Numbered and signed edition of 300.