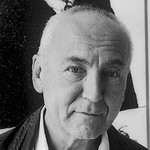 Willi Glasauer
Willi Glasauer
was born in Stribro, Bohemia in 1938. From a very young age Glasauer showed an interest in drawing. He himself admits that &#171When I finally started school, I drew all over the borders of my text books and instead of concentrating on what the teachers were trying to teach I concentrated on their faces. My collection of realistic portraits of adolescents grew while my interest in what was being taught lessened to the degree that I didn't finish High School. I then changed direction found my magnetic north but spent the next few years wandering aimlessly around the halls of an art school&#187.
After completing his studies at the Superior School of Fine Arts in Maguncia in 1976, he moved to France where he worked as a free-lance illustrator.
Since 1988 he has lived and worked between Germany and France. He has worked for some of the most prestigious publishing houses in Germany (Beltz/Gelberg, DuMont Verlag) and France (Gallimard, Castermann). He also has a long standing working relationship with Círculo de Lectores in Spain.
He was late in gaining recognition, and it was not until the 1980's that he exhibited in a number of galleries such as the Flora Gallery in Innsbruck (1987), the Redmann Gallery in Berlin (1987, 1998) and the Therèse Roussel Gallery in Perpignan (1999).
Artworks by Willi Glasauer: