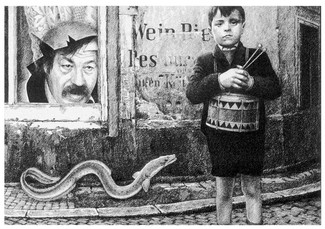 Click on the image for a more detailed view.
Willi Glasauer
Günter Grass. La conciencia del país (Trilogía...)
, 2000
Lithograph in 1 color
Image format: 24 x 34 cm
Paper: Arches 38 x 46 cm
Edition of 90 numbered and signed works
Order number: 5421
Normal price:
160,00 €
Special price for memberships:
Quote A:
152,00 €

( save 5% )

Quote B:
144,00 €

( save 10% )

Quote C:
128,00 €

( save 20% )

All prices include taxes
About this work:
Here, with his usual skill, Glasauer has summarised Grass' universe, and his novel The Tin Drum: not just the protagonist, Oskar Matzerath, the dwarf playing his drum, but also the dirty walls, damp cobblestones, the hugely depressing atmosphere of the German period that the novel reflects, the eel from one unforgettable chapter, and the broken glass of the window, through which, always vigilant, Günter Grass appears. Is it an allusion to the Night of Broken Glass, or to the fact that Oskar Matzerath breaks windows when he shouts? But Grass, apart from being a great novelist, winner of the Nobel Prize in 1999, and the first writer in a foreign language to win the Premio Príncipe de Asturias, is also a virtuoso of the visual arts.




Other Artworks by Glasauer: