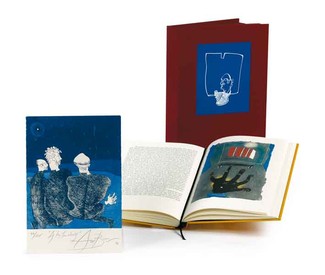 Click on the image for a more detailed view.
George Orwell
Homenatge a Catalunya
, 1996
Image format: 19 x 29 cm
Edition of 125 numbered and signed works
Artwork by Orwell and Arranz-Bravo
Order number: 1263
Normal price:
300,00 €
Special price for memberships:
Quote A:
285,00 €

( save 5% )

Quote B:
270,00 €

( save 10% )

Quote C:
240,00 €

( save 20% )

All prices include taxes
About this work:
George Orwell, one of the great names in English literature of the 20th century, was just a young writer when he decided to come to Spain to write about the civil war. The result of his stay in Catalonia, in 1937, was a book witnessing the war that became one of the most important written documents of our recent history.

Originally published in English, the book Homenaje a Cataluña (Homage to Catalonia) has been through numerous editions. However, the one we are presenting here is unique for two reasons: it is taken from the first edition in Castilian Spanish and Catalan, from the version that George Orwell revised before his death, and it has been designed as a real collector's jewel by Eduardo Arranz-Bravo. The beautiful illustrations by the Catalan artist reflect the delicacy, idealism and respect that Orwell showed in describing, with wonderful independence, the difficult political situation in Barcelona during the war.

Offered exclusively by Círculo del Arte is an original etching by Arranz-Bravo, in a limited edition, numbered and signed by the artist. The version of the book in Catalan is accompanied by the etching entitled A les Trinxeres (To the Trenches), and the Spanish version by the etching Orwell en Catalunya (Orwell in Catalonia) also an original by the artist. Both works exude melancholy in their blue, nocturnal visions.


The book: Spanish edition, illustrated by Eduardo Arranz-Bravo. Binding: Regentleinen cloth with stamping. 19 x 29 cm. 272 pages. Numbered edition of 125.

The case: lined with Regentleinen cloth, with a monochrome print on the front.

The print: A les Trinxeres, 1996, by Eduardo Arranz-Bravo. Monochrome etching. 17,5 x 22,5 cm. Numbered and signed edition of 125.


Other Artworks by Orwell: