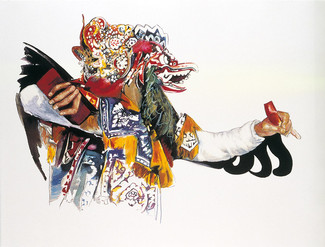 Click on the image for a more detailed view.
Barbara Anello
Ketut Widiana as Jatayu
, 2000
Lithograph in 10 colors
Image format: 50 x 65 cm
Paper: Arches 50 x 65 cm
Edition of 100 numbered and signed works
Order number: 6056
Normal price:
300,00 €
Special price for memberships:
Quote A:
285,00 €

( save 5% )

Quote B:
270,00 €

( save 10% )

Quote C:
240,00 €

( save 20% )

All prices include taxes
About this work:
Jatayu refers to the heroic bird which sacrificed itself to save Sita in the epic Hindu poem Ramajana. A dancer from Tejakula in the north of Bali wears the sacred mask which was discovered half a century ago and which is kept in the temple for performing Wayang Wong, a dance based on the shadow theatre of Java and Bali.





Other Artworks by Anello: