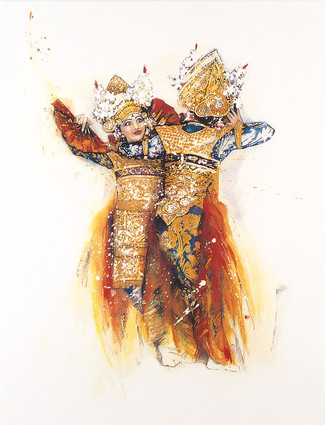 Click on the image for a more detailed view.
Barbara Anello
Legong Peliatan
, 2000
Lithograph in 11 colors
Image format: 65 x 50 cm
Paper: Arches 65 x 50 cm
Edition of 100 numbered and signed works
Order number: 6064
Normal price:
300,00 €
Special price for memberships:
Quote A:
285,00 €

( save 5% )

Quote B:
270,00 €

( save 10% )

Quote C:
240,00 €

( save 20% )

All prices include taxes
About this work:
Legong is the Balinese dance performed by three youths wearing bright, decorative costumes. With the seriousness of an ethnographer, Barbara Anello explores the jungle, visiting hidden corners of the island, where the temples belonging to the clans are, and meets with the locals and the artists who take part in these dramatic dances. For the Balinese, it is not a simple dance, but an offering to the ancestral gods. The dancers look at one another in ecstasy, spinning their fans round and round, moving their necks, wrists and fingers gracefully. They lower their bodies, bending their knees outwards. Each part of the body symbolizes the macrocosms, the eternal forces of good and evil.




Other Artworks by Anello: