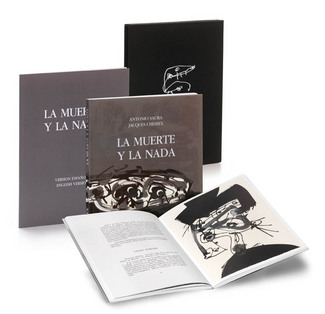 Click on the image for a more detailed view.
Jacques Chessex
La muerte y la nada
Order number: 9449
Price:
80,00 €
P&D price:
25,00 € + 50 points
All prices include taxes
About this work:
The origin of this book is unusual in Saura's career as an illustrator, because on this occasion it was the artist's drawings that were the source of inspiration for the text by the poet Chessex.

In 1987, the editor Pierre Canova commissioned Saura to make a collection of 27 drawings that would act as a source of inspiration for new texts by the Swiss poet Jacques Chessex. From this close collaboration arose La muerte y la nada (Death and Nothingness) in 1990, a limited edition of 2,500 numbered copies.

In addition to the original book in French is a work with the texts translated into Spanish by José Martín Arancibia, and into English by René Zapata. Both books are included in a case covered in black cloth, and printed with one of Saura's drawings.


Pierre Canova editors, Swuitzerland, 1990. With 27 colour illustrations by Antonio Saura. Text in French by Jacques Chessex. 30 x 23,5 cm. 92 pages. With jacket. Numbered edition of 2.500. In addition, this edition includes a small book with the translations of the text in Spanish, by José Martín Aranciaba, and in English by René Zapata. Case lined with cloth, with stampings.