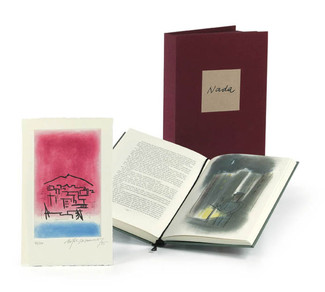 Click on the image for a more detailed view.
Carmen Laforet
Nada
, 1995
Edition of 300 numbered and signed works
Artwork by Laforet and Ràfols-Casamada
Order number: 703
Normal price:
500,00 €
Special price for memberships:
Quote A:
475,00 €

( save 5% )

Quote B:
450,00 €

( save 10% )

Quote C:
400,00 €

( save 20% )

All prices include taxes
About this work:
Círculo del Arte is offering a new edition of Nada (Nothing), to celebrate the Fiftieth anniversary of the book's original publication. With this novel, a legendary work in the literature of Post-war Spain, Carmen Laforet won the first Premio Nadal in 1944. Via the sordid family environment that surrounds the main character, the author immerses us in the period during which her work was created, using an effective, sensitive narrative full of descriptive excellence and literary beauty.

In his illustrations for this exquisite commemorative edition, Ràfols-Casamada captures the intimate magic and profound lyricism of the story, in which Barcelona of the period appears as an expressive scene full of profound existential sadness. Ràfols' drawings are elegant and light, and depict a grey city, full of melancholy, which chimes perfectly with the feelings of the text, but allows a ray of hope to shine through, by means of occasional images full of light, which remind us of the warm presence of the sea, or of pleasant retreats from everyday life.


The book: with 24 illustration in colour and 30 in black and white. Cover lined with Iris cloth, with stamping on spine. 27 x 18 cm. 272 pages. Numbered and signed edition of 300.

The case: lined with Iris cloth.

The print: Puerto (Harbour), 1995, by Albert Ràfols-Casamada. Etching in 3 colours on Guarro paper, numbered and signed. 19 x 11,5 cm. Paper: 25,5 x 16.