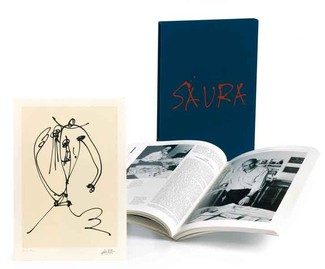 Click on the image for a more detailed view.
Julián Rios
Retrato de Antonio Saura (Edición bibliófila)
, 1991
Image format: 21 x 29,7 cm
Edition of 300 numbered and signed works
Order number: 4820
Normal price:
210,00 €
Special price for memberships:
Quote A:
199,50 €

( save 5% )

Quote B:
189,00 €

( save 10% )

Quote C:
168,00 €

( save 20% )

All prices include taxes
About this work:
This biography is a fundamental work, unique in its understanding of Antonio Saura's life and work. The writer Julián Ríos, who is extremely familiar with Saura's world, has created a thorough analysis of his work, along with an interesting interview. The book, published in 1991, also features a chronology of Saura's life and an extensive array of documentary material: more than 80 photographs from the Aragonese painter's life and work, memories of other people, and critical evaluations. It also includes reproductions of a personal selection of 8 paintings which the painter considered essential to his artistic output, as well as 16 quintessential drawings.

From these drawings, a short time before he died Antonio Saura himself chose the ones he wanted to have screen printed to accompany new editions of some of his more emblematic illustrated books: 1984, San Juan de la Cruz - Poesía y otros textos, La familia de Pascual Duarte (see elsewhere) and the book Retrato de Antonio Saura (Portrait of Antonio Saura). 300 copies of the screen print that corresponds to each one of these books has been printed, each one authenticated with the stamp of the Estate of Antonio Saura, which consists of his daughter Marina Saura and his widow, Mercedes Beldarraín. Here you can see the screen print which, together with a photograph by the German photographer resident in Madrid Eberhard Hirsch, accompanies the book. This book has been signed by Antonio Saura, and for this reason represents a real rarity. Together the ensemble is presented in an attractive, cloth-boundcase.

The book: with 85 photographs in black and white of the life and oeuvre of Antonio Saura, reproduction of 16 drawings and 8 paintings in colour, and 3 vignettes in black and white. Binding: Paperback with flaps. 29,7 x 21 cm. 176 pages. Numbered edition of 300, signed by Antonio Saura.

The case: Lined with Iris cloth, with stamping on cover.

The print: Silkscreen in 2 colours. 25 x 17 cm. Paper: Velin Arches 28,7 x 20 cm. Numbered edition of 300, authenticated by the Estate of Antonio Saura.

The photograph: Antonio Saura in his Paris workshop. Taken and signed by the German photographer Eberhard Hirsch.