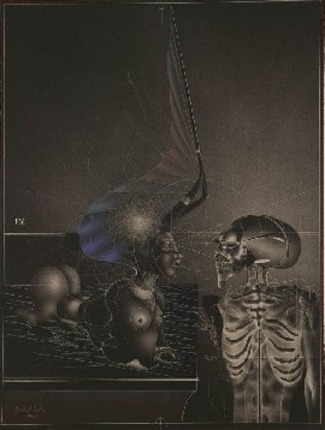 Click on the image for a more detailed view.
Paul Wunderlich
Sphinx und Tod (Esfinge y muerte)
, 1978
Lithograph in 3 colors
Paper: Fabriano Murillo 84 x 64 cm
Edition of 100 numbered and signed works
Obra enmarcada. Precio del marco incluido en el precio de la obra
Order number: 21493
Normal price:
1.100,00 €
Special price for memberships:
Quote A:
1.045,00 €

( save 5% )

Quote B:
990,00 €

( save 10% )

Quote C:
880,00 €

( save 20% )

All prices include taxes
About this work:
Wunderlich, en susofisticada obra, surrealista y neomanierista, de acentuada sensualidad y extrema perfección estética, destaca la presencia del eros, el éxtasis, la decadencia y la muerte. Son composiciones de suprema y fría elegancia formal, cuyos motivos, libres de convenciones morales, revelan en ocasiones una fina ironía.
Other Artworks by Wunderlich: