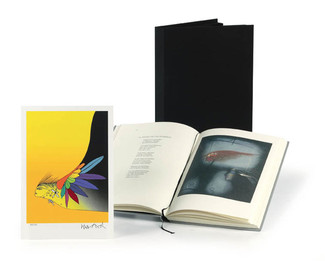 Click on the image for a more detailed view.
Rafael Alberti
Sobre los ángeles / Sermones y moradas
, 1996
Image format: 18,5 x 26,4 cm
Edition of 300 numbered and signed works
Artwork by Alberti and Wunderlich
Order number: 1248
Normal price:
200,00 €
Special price for memberships:
Quote A:
190,00 €

( save 5% )

Quote B:
180,00 €

( save 10% )

Quote C:
160,00 €

( save 20% )

All prices include taxes
About this work:
The poetic cycle Sobre los ángeles (Concerning the Angels) (1927-1928) and Sermones y moradas (Sermons and Homes) (1929-1930) represent a highpoint in contemporary Hispanic poetry. The two collections are linked to Rafael Alberti's surrealist phase, and were the fruit of four years of devastating crisis that the poet suffered just before the Republic. Wrapped in a hard, confused, electrifying atmosphere, Alberti begins a one-way journey to paradise, explores the enigma of existence and talks with ambiguous, immortal winged creatures. Angels of all types inhabit this immortal dream, the nightmare of an impossible search converted into a unique and fascinating poetic paradise, which has been exquisitely illustrated by Paul Wunderlich, and has a prologue by Pere Gimferrer.
The screen print Sobre los án is a particularly intense example of the world that Wunderlich has created: it is an image that is half angelical, half aggressive, and very much part of the ambiguities and double-meanings characteristic of this German printmaker.

The book: with 38 illustrations by Paul Wunderlich. Prologue by Pere Gimferrer. Binding: Regentleinen cloth, with 3 stampings. 26,4 x 18,5 cm. 160 pages. Numbered edition of 300.

The case: lined with Regentleinen cloth.

The print: Sobre los ángeles (Concerning the Angels), 1996, by Paul Wunderlich. Silkscreen in 14 colours, on Rives Paper. 25,5 x 17,5 cm. Signed and numbered edition of 300.



Other Artworks by Alberti: