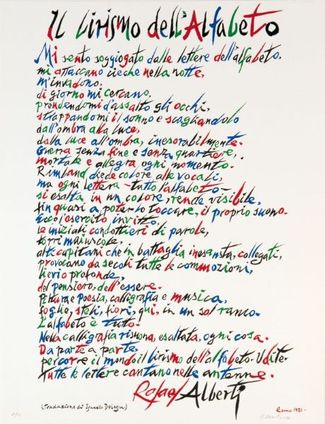 Click on the image for a more detailed view.
Rafael Alberti
Il Lirismo dell ' Alfabeto Poema
Screenprint
Paper: Velin Cuve Rives 65 x 50 cm
Edition of 99 numbered and signed works
Sólo disponible en el conjunto de la carpeta completa de Il Lirismo dell ' Alfabeto
Order number: 8730
About this work:
Como relata en su autobiografía La arboleda perdida, Rafael Alberti se sentía desde niño subyugado por las letras del alfabeto, «pero no por su sonido, su significado, sino por su grafía, por la representación visual de las letras que componen cada palabra». En 1972, durante su exilio en Roma, creó la carpeta Il Lirismo dell'Alfabeto, un homenaje al abecedario, de 50 láminas realizadas en las más diversas técnicas de la estampa. A cada letra está dedicado un grabado en color y uno en blanco y negro, ambos firmados y numerados por Alberti. La versión en color está realizada en las técnicas de litografía, serigrafía, xilografía o aguafuerte. La versión en blanco y negro es una serigrafía.
«Me siento arrebatado por las letras,
me atacan ciegas en la noche,
me invaden:
me cercan en el día,
tomándome los ojos al asalto,
arrancándome el sueño y arrojándomelo
de la sombra a la luz,
de la luz a la sombra, inexorablemente.
Guerra sin fin y sin cuartel,
mortal y alegre en cada instante.
Rimbaud le dio color a las vocales,
mas cada letra –todo el alfabeto–
se exalta en un color, hace visible,
hasta casi poder tocarlo, su sonido.
He aquí la armada invicta,
las iniciales jefes de la palabra,
torres mayúsculas,
altos capitanes que en batalla continua, entrelazados,
provocan desde siglos todas las conmociones,
ligeras o profundas,
del ser, del pensamiento.
Pintura, poesía, caligrafía y música
–hojas, estrellas, flores– aquí, en un solo ramo.
El alfabeto es todo.
En la caligrafía exaltada, resuena cada cosa.
De parte a parte,
recorre el mundo el lirismo del alfabeto. Oíd.
Todas las letras cantan en las antenas.»
Rafael Alberti
Poema caligrafiado que acompaña la edición en la carpeta
Esta obra está incluida en las siguientes Series de Circulo del Arte:
Other Artworks by Alberti: