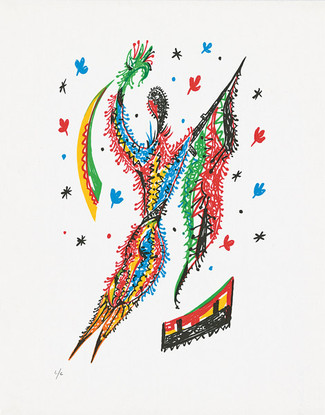 Click on the image for a more detailed view.
Rafael Alberti
Regreso al ruedo del poeta
, 1993
Screenprint in 5 colors
Image format: 65,5 x 50 cm
Paper: Arches 65,5 x 50 cm
Edition of 100 numbered and signed works
Order number: 422
Normal price:
550,00 €
Special price for memberships:
Quote A:
522,50 €

( save 5% )

Quote B:
495,00 €

( save 10% )

Quote C:
440,00 €

( save 20% )

All prices include taxes
About this work:
Close to the pictorial avant-garde of the Second Republic, Alberti took from that period a deep belief in artistic freedom. In Regreso al ruedo del poeta (The Poet's Return to the Bullring), the figure of the bullfighter, weightless and jubilant, opens his arms wide, in a gesture of celebration which is echoed by the stars and flowers that surround him, in a warm salute with which the spectators in the bullring receive his return to the fight, which could also symbolise the friendly welcome that the writer received on returning from exile.

With its nervously zigzagging lines and bright colours, this image is a classic example of Alberti's unmistakeable personality in the field of the plastic arts.




Other Artworks by Alberti: