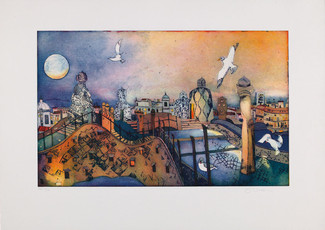 Click on the image for a more detailed view.
Jutta Votteler
Suite Barcelona: Atardecer en La Pedrera
, 2011
Etching and aquatint
Image format: 49,5 x 69,5 cm
Paper: Bütten 32,5 x 53 cm
Edition of 120 numbered and signed works
Order number: 40402
Normal price:
450,00 €
Special price for memberships:
Quote A:
427,50 €

( save 5% )

Quote B:
405,00 €

( save 10% )

Quote C:
360,00 €

( save 20% )

All prices include taxes
Opcional: con marco de aluminio negro
Suplement: 100,00 €
About this work:
Desde la primera aparición de la artista alemana Jutta Votteler (Ludwigshafen am Rhein, 1959) en la revista 57 no han cesado las peticiones de ampliar su presencia en nuestra programación. El inusitado éxito de sus aguafuertes de idílicos jardines se repitió en la navidad de 2010 con las encantadoras miniaturas de paisajes de Mallorca y Cadaqués (revista 61) y volvió a producirse recientemente con el aguafuerte El Tramvía Blau del Tibidabo, primero de una serie de tres grabados dedicados a Barcelona, anunciados en la revista 64. Completamos hoy la trilogía Suite Barcelona con las arrebatadoras estampas Atardecer en la Pedrera y Barcelona desde Miramar.
El conjunto es fruto de la visita que Jutta Votteler ha realizado a la Ciudad Condal en la primavera del 2010, invitada por el club a conocer la ciudad en vistas a plasmar en varios aguafuertes algunos paisajes barceloneses de su elección. Tras recorrer barrios y lugares emblemáticos de la ciudad, se decidió la artista por los tres escenarios evocados en la trilogía: la falda del Tibidabo con el apeadero del Jutta Votteler Miradas amorosas sobre una ciudad mediterránea Tranvía Azul junto a la estación del funicular, la terraza de La Pedrera de Gaudí en un anochecer de luna y una vista sobre el puerto desde los jardines de Miramar del Montjuich. Son visiones armoniosas y risueñas de paisajes urbanos, que la artista evoca con empatía y libertad, dotándolos de su peculiar encanto, pero siempre conservando su esencia reconocible. Las sutiles composiciones muestran un extraordinario dominio técnico del aguafuerte y el aguatinta.
Other Artworks by Votteler: