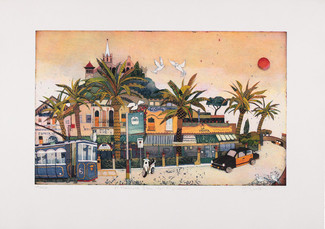 Click on the image for a more detailed view.
Jutta Votteler
Suite Barcelona: El Tramvia Blau del Tibidabo
, 2011
Etching and aquatint
Image format: 32,5 x 53 cm
Paper: Bütten 49,5 x 69,5 cm
Edition of 120 numbered and signed works
Order number: 40362
Normal price:
450,00 €
Special price for memberships:
Quote A:
427,50 €

( save 5% )

Quote B:
405,00 €

( save 10% )

Quote C:
360,00 €

( save 20% )

All prices include taxes
Opcional: con marco de aluminio negro
Suplement: 100,00 €
About this work:
UN TRANVÍA LLAMADO DESEO
El vistoso y popular Tramvia Blau (Tranvía Azul) del Tibidabo es toda una institución barcelonesa. Fue inaugurado en 1901 y comunica el final de la calle Balmes con la Plaza del Doctor Andreu en la falda de la montaña. Esta plaza, final de trayecto del tranvía, es el punto de enlace con el funicular que transporta a los visitantes y excursionistas a la cima del Tibidabo. En la encantadora plaza hay varios locales, que hacen a la vez de mirador sobre la ciudad: el Restaurante La Venta, el Bar Mirablau y el Merbeyé. Este cautivador conjunto urbano y paisajístico, animado por las llegadas y salidas del Tramvia Blau y del Funicular, no le pasó desapercibido a la artista Jutta Votteler (Ludwigshafen am Rhein, 1959) en su estancia en Barcelona durante la reciente primavera.

Invitada por Círculo del Arte a plasmar en una serie gráfica los escenarios y puntos de la ciudad que más gratamente la impresionaron, no dudó Jutta Votteler en incluir en su programa un motivo protagonizado por el entrañable tranvía en su llegada al pie del Funicular. El Tramvia Blau del Tibidabo es así el primero de una serie de aguafuertes de color dedicados a Barcelona, que iremos publicando en los próximos meses. La arrebatadora y alegre imagen nace de la inmersión personal de Votteler en el escenario visitado. La deliciosa composición, realizada en aguafuerte y aguatinta con extraordinario dominio y gran sutileza, está de nuevo impregnada de la magia especial e inconfundible que ya conocen nuestros socios de ocasiones anteriores.

Other Artworks by Votteler: