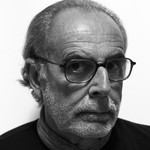 Eduardo Arranz-Bravo
Born in Barcelona in 1941,
Eduardo Arranz-Bravo
studied at the Escuela Superior de Bellas Artes de San Jorge. It was here that he met Rafael Bartolozzi, an artist with whom he would form a legendary duo which, for more than a decade from the 70s would carry out artistic projects that would affect the history of Spanish contemporary art. These include the paintings for the external façades of the
Tipel
factory in Parets del Vallès and the home of Camilo José Cela in Mallorca, the
Mides Universals
exhibition in the Saló del Tinell in Barcelona and their selection of Spain at the 39th Venice Biennale. Since then Eduardo Arranz-Bravo has held exhibitions in numerous galleries and museums throughout the world, such as the Museo de Arte Moderno de Sao Paolo, the Museo Nacional Reina Sofía in Madrid, the Tecla Sala Cultural Centre in Barcelona and the Franklin Bowles Gallery in New York.
Artworks by Eduardo Arranz-Bravo: