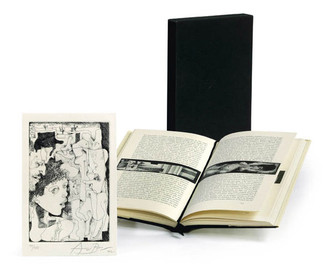 Click on the image for a more detailed view.
Camilo José Cela
Cristo versus Arizona
, 1992
Image format: 16 x 24 cm
Paper: Torras Hostench
Edition of 200 numbered and signed works
Artwork by Cela and Arranz-Bravo
Order number: 513
Normal price:
250,00 €
Special price for memberships:
Quote A:
237,50 €

( save 5% )

Quote B:
225,00 €

( save 10% )

Quote C:
200,00 €

( save 20% )

All prices include taxes
About this work:
In his illustrations for the book Cristo Versus Arizona, by Camilo José Cela, Arranz-Bravo recreates the anguish of characters who live in an aggressive, hostile world, using a continuous narrative thread that runs through the central part of the book - like an effective visual counterpoint to Cela's unbroken prose. In the images, which fall between the descriptive and the suggestive, Arranz-Bravo conveys the shadows, fears and desires present in Cela's narrative.

In the engraving that accompanies the book, Arranz-Bravo creates images full of rich expression, in which the presence of sexual elements is combined with allusions to the landscape of Arizona by means of its apparently continuously flowing line.


The book: with 246 illustrations by Eduardo Arranz-Bravo. Binding: Iris cloth, with jacket. 19,2 x 24 cm. 296 pages. Numbered edition of 200, signed by both authors.

The case: lined with Iris cloth.

The print: Cristo versus Arizona No 1 (Christ versus Arizona No 1), by Eduardo Arranz-Bravo. Monochrome etching, signed and numbered. 19,2 x 12,8 cm. Paper: 23 x 15 cm.


Other Artworks by Cela: