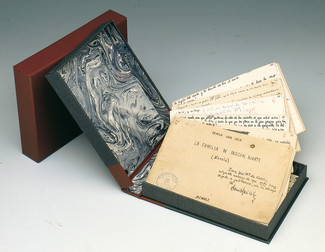 Click on the image for a more detailed view.
Camilo José Cela
La familia de Pascual Duarte (Facsímil)
Order number: 257
Normal price:
1.200,00 €
Special price for memberships:
Quote A:
1.140,00 €

( save 5% )

Quote B:
1.080,00 €

( save 10% )

Quote C:
960,00 €

( save 20% )

All prices include taxes
About this work:
In beautiful, simple, effective language, the moving story of Pascual Duarte - both a reflection and a parable of the tragedy that was Spain - was published in 1942. On the fiftieth anniversary of its publication, Círculo de Lectores wanted to pay tribute to this novel, already considered one of the greatest literary monuments of the 20th century, by making a facsimile edition of the original manuscript. As is usual with this type of edition, the print run was limited, to 980 copies, numbered and signed by the author. The result could not be more perfect. The facsimile - defined as &#171a perfect imitation&#187 according to the dictionary of the Real Academia - reproduces the physical characteristics of the paper with amazing verisimilitude, even down to the wear and tear suffered by the manuscript: the patina of time, &#171that great sculptor.&#187 In all details identical to the original, it is a copy of the squared notebooks that Cela used to write the tragic tale of the parricide Pascual Duarte.

Facsimiled edition: Edition of 980 in Arabig numerals destined for sale, and 300 in Roman numerals, destined for libraries, university archives and the author himself. The edition is presented in a case lined with cloth and leather, with stamping on spine and hand coloured interior flyleaves. In addition to the facsimiled manuscript this edition includes: a certificate of the edition signed by Camilo José Cela, a notarial declaration of the total number of signed copies, a photograph of Camilo José Cela in the ceremony of signature of the facsimile dedicated to H. M. the King Juan Carlos I.


Other Artworks by Cela: