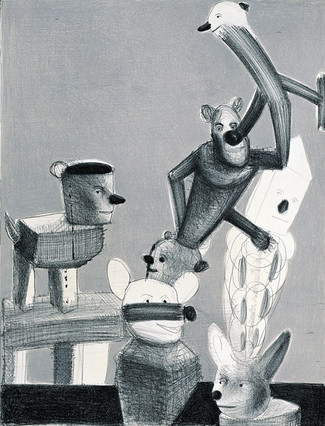 Click on the image for a more detailed view.
Javier Pagola
¡Adiós, carne!
, 1994
Lithograph in 3 colors
Image format: 65 x 50 cm
Paper: Arches 65 x 50 cm
Edition of 100 numbered and signed works
Order number: 612
Normal price:
360,00 €
Special price for memberships:
Quote A:
342,00 €

( save 5% )

Quote B:
324,00 €

( save 10% )

Quote C:
288,00 €

( save 20% )

All prices include taxes
About this work:
In the lithograph Adiós carne! (Goodbye Flesh!), Pagola shows the richness of his personal language, in which two apparently different realities oppose and interplay with one another: a confident, spontaneous drawing, reminiscent of comics, and a second reading of the image, a world in which the characters acquire, by means of complex relationships largely determined by their positions to the void, as well as by their strange expressions, a troubling and uneasy atmosphere. The immediacy of the initial lines in graphite are here very present, giving the lithograph all the authenticity found in this form of printing.




Other Artworks by Pagola: