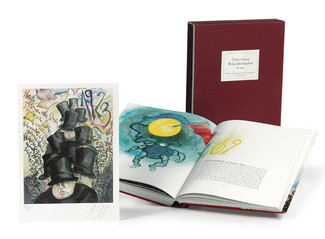 Click on the image for a more detailed view.
Günter Grass
Mein Jahrhundert (Mi siglo)
Edition of 90 numbered and signed works
Order number: 6296
Normal price:
280,00 €
Special price for memberships:
Quote A:
266,00 €

( save 5% )

Quote B:
252,00 €

( save 10% )

Quote C:
224,00 €

( save 20% )

All prices include taxes
About this work:
Mi siglo (My Century): this monumental chronicle is a book of stories, and at the same time a book of History, which, because of the importance of its author, has already made history. The hundred years of the century are reflected in the hundred stories that Grass has written from varying perspectives. In a perfect correspondence of image and text, historical facts pass before our eyes, to make the troubled century that lasted from 1900 to 1999. My century is as much a chronicle of events as a personal autobiography by Grass. From a huge mass of data, the author distils the facts that he considers most relevant, to illuminate with the spark of his image and the brilliance of his words. Critics agree that this is an ambitious, experimental, personal and often amusing book about the century, which Grass calls &#171mad, destructive and promising&#187 at the same time. This is a luxurious, bibliophile original edition of this extraordinary book in German, protected by an attractive case and accompanied by a facsimile watercolour by Grass, signed by the author. It is a unique edition, which will satisfy even the most demanding book collectors.

The buyers of this edition will receive, in addition, the text in Spanish without illustrations.

The book: with reproductions of 180 watercolours by Günter Grass. Text in German. Binding: cloth with stamping on spine. 24 x 31 cm. Special edition of 90.

The case: Bound in boards, with a colour print on the cover.

The print: 1923. Hoy aquellos billetes resultan bonitos (1923. Today, those Banknotes turn out Beautiful), by Günter Grass. Facsimiled watercolour. 25,2 x 19,5 cm. Paper: 32 x 21,8 cm. Numbered and signed edition of 90.


Other Artworks by Grass: