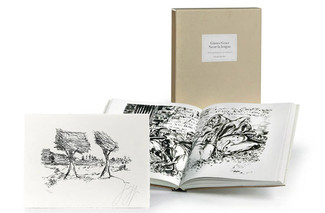 Click on the image for a more detailed view.
Günter Grass
Sacar la lengua
Edition of 100 numbered and signed works
Order number: 6130
Normal price:
280,00 €
Special price for memberships:
Quote A:
266,00 €

( save 5% )

Quote B:
252,00 €

( save 10% )

Quote C:
224,00 €

( save 20% )

All prices include taxes
About this work:
In August 1986, fleeing from the West, from confusion, from talk and from the &#171ambitious games of self-realisation&#187, Günter Grass travelled to India. For almost six months, he lived in Calcutta - world capital of poverty - and the result was Sacar la lengua (Sticking Out Your Tongue) with 56 double-page drawings by the writer, all images of overwhelming drama. Using pen and charcoal, the brilliant German writer shows us a powerful graphic document of modern India: mountains of rubbish, beggars, the dead and dying, flies, rooks and rats fighting over carrion, the over-crowding of miserable cane shacks and here and there, always crouching, lying in wait, Kali, sticking her tongue out at us. The title refers to the goddess Kali, traditionally represented in Hindu mythological iconography, in this shaming gesture, as Grass affirms. Now Grass also sticks his tongue out at us by reminding us that beyond our own well-being there is a world of catastrophes that we usually ignore. And, just like Kali with her many arms, he creates a multiple book, which he has written, illustrated and designed.

The book: with 56 black and white double-page illustrations by Günter Grass. Binding: cloth, with stamping on spine, and jacket. 248 pages. 31,5 x 24,5 cm. Edition of 100.

The case: bound in boards, with a colour print on the cover.

The print: Impresión de la India rural de Calcuta (Impression of Rural India in Calcutta), by Günter Grass. Monochrome ALGRAFÍA. 21 x 26 cm. Paper: Arches Bütten. Numbered and signed edition of 100.



Other Artworks by Grass: