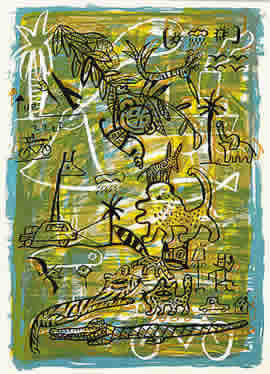 Click on the image for a more detailed view.
Javier Mariscal
Tots junts amb la Sabana
, 1998
Screenprint in 6 colors
Image format: 76 x 56 cm
Paper: Arches 76 x 56 cm
Edition of 125 numbered and signed works
Order number: 3137
Normal price:
610,00 €
Special price for memberships:
Quote A:
579,50 €

( save 5% )

Quote B:
549,00 €

( save 10% )

Quote C:
488,00 €

( save 20% )

All prices include taxes
About this work:
The African savannah is the place where the most diverse chimerical beings and every-day objects create the vibrant frenzy that dominates this work. In Tots junts amb la Sabana (All Together on the Savannah), the landscape is phantasmagorial, an unreal scene steeped in an atmosphere of collective happiness. At the same time, the colours evoke a Mediterranean landscape more than the dry plains of Africa. A signpost shows the way up a palm-tree/ladder, a giraffe drives a car, a cat plays with a standing lamp, a house looks at us, surprised at so much commotion, and a passing fish walks through the landscape with delightful parsimony.This is the logic of dreams and children, the logic of a creator with a playful spirit and an agile brush.




Other Artworks by Mariscal: