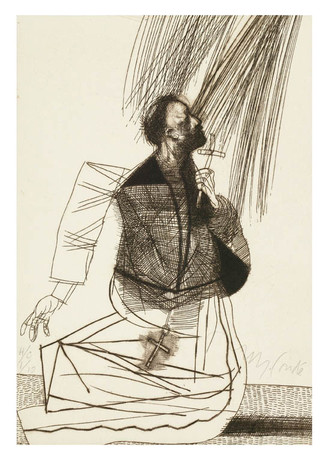 Click on the image for a more detailed view.
Miguel Condé
Trilogía del buen amor: El Arcipreste preso
, 1996
Aguafuerte in 1 color
Format: 26,5 x 18,5
Paper: Bütten
Edition of 100 numbered and signed works
Order number: 30044
Normal price:
300,00 €
Special price for memberships:
Quote A:
285,00 €

( save 5% )

Quote B:
270,00 €

( save 10% )

Quote C:
240,00 €

( save 20% )

All prices include taxes
About this work:
Los tres grabados de gran intensidad expresiva que componen la Trilogía del buen amor – El arcipreste preso, La mujer hermosa y El Arcipreste con doña Garoza – están realizados en el más clásico y depurado estilo del artista. Mientras una estampa nos muestra al Arcipreste cautivo, solitario y sediento de amor divino, las otras escenas lo presentan como a un pecador, tentado por las exuberancias de la mujer hermosa o intentando seducir a la monja doña Garoza.
Other Artworks by Condé: