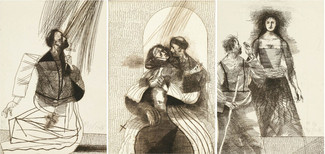 Click on the image for a more detailed view.
Miguel Condé
Trilogía del buen amor
Aguafuerte
Format: Tríptico, 3 x (26,5 x 18,5)
Paper: Bütten
Edition of 100 numbered and signed works
Order number: 40440
Normal price:
750,00 €
Special price for memberships:
Quote A:
712,50 €

( save 5% )

Quote B:
675,00 €

( save 10% )

Quote C:
600,00 €

( save 20% )

All prices include taxes
About this work:
Las tres hermosas estampas de inequívoca referencia literaria son resultado de la inmersión del artista en el Libro de buen amor, la obra clásica medieval de Juan Ruiz, Arcipreste de Hita, escrita supuestamente en la cárcel. El libro es una ficción autobiográfica amorosa, en la que –con el propósito de instruir a sus lectores sobre los peligros del loco amor o amor mundano y las ventajas del buen amor o amor de Dios- nos relata Juan Ruiz los intentos de seducción de numerosas mujeres por parte del arcipreste, intentos que suelen acabar en fracaso.
Los tres grabados de gran intensidad expresiva que componen la Trilogía del buen amor – El arcipreste preso, La mujer hermosa y El Arcipreste con doña Garoza – están realizados en el más clásico y depurado estilo del artista. Mientras una estampa nos muestra al Arcipreste cautivo, solitario y sediento de amor divino, las otras escenas lo presentan como a un pecador, tentado por las exuberancias de la mujer hermosa o intentando seducir a la monja doña Garoza.

Other Artworks by Condé: