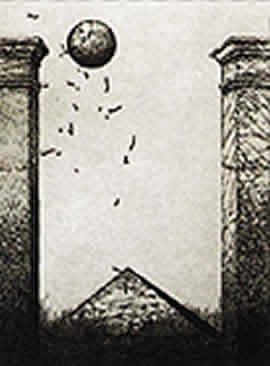 Click on the image for a more detailed view.
José Hernández
El Aleph
, 1994
Etching in 1 color
Image format: 27,5 x 19,5 cm
Paper: Arches 56 x 38 cm
Edition of 100 numbered and signed works
Order number: 596
Normal price:
350,00 €
Special price for memberships:
Quote A:
332,50 €

( save 5% )

Quote B:
315,00 €

( save 10% )

Quote C:
280,00 €

( save 20% )

All prices include taxes
About this work:
In El Aleph, Hernández alludes directly to the story whose title refers to &#171a place where there exist, unmistakably, all the places on the planet, visible from all angles&#187.

Like the original story, this engraving by Hernández seems to allude to the relativity of our spatial perception, showing us an image full of troubling spatial relationships, in which the precision of the pure geometrical forms seems to be contradicted by the feeling of lack of gravity and of decomposition of the sphere, and by the dense vegetation that seems to be invading the pyramid, a traditional symbol of eternity.




Other Artworks by Hernández: