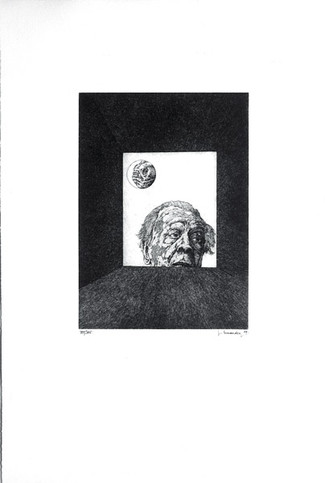 Click on the image for a more detailed view.
José Hernández
Retrato imaginario de Borges
, 1999
Etching in 1 color
Image format: 27,5 x 19,5 cm
Paper format: 56 x 38
Edition of 25 numbered and signed works
Order number: 4739
Normal price:
350,00 €
Special price for memberships:
Quote A:
332,50 €

( save 5% )

Quote B:
315,00 €

( save 10% )

Quote C:
280,00 €

( save 20% )

All prices include taxes
About this work:
1999 was the 75th anniversary of Franz Kafka's death, coinciding with the centenary of Borges' birth. The painter José Hernández, an expert on the work of these two geniuses of the 20th century, has shown his admiration for them both in these new works. To each writer he has dedicated a suite of three engravings, which accompany editions of their work that he himself has illustrated.

The etching Imaginary Portrait of Franz Kafka is the first in the suite dedicated to Metamorphosis. Here we have a special, limited edition of this engraving, with 25 large format copies, with margin.

The Imaginary Portrait of Jorge Luis Borges comes in two forms: as a large scale work on its own, or as part of a set including the book, case and graphic work, in the format of the book, without a margin.




Other Artworks by Hernández: